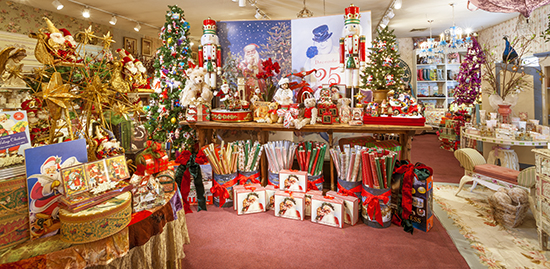 Welcome to Christmas in Yelm!
JZ Knight is the owner of JZ Rose Boutique and the award-winning JZ Rose Virtual Village web site, www.jz-rose.com (formally the Outback Boutique).
JZ Rose is a treasure chest that offers vintage-style gifts and collectibles, home furnishings, fine antiques, and everything beautiful. JZ's personal love for fine art, timeless antiques, and the nostalgic romanticism of the Victorian style inspired her to create a store where she could share the things she loves with other people.
The JZ Rose store in Yelm attracts shoppers from California to New York and Canada.
"With this store I want to keep the magic and awe of Christmas alive all year long," JZ said. "I want you to feel like a little child the moment you walk into the store or visit our web site."
JZ Rose is the official Pacific Northwest retailer of MacKenzie-Childs, whose unique handcrafted designs delight children of all ages! The store also carries handmade Christopher Radko ornaments to adorn your tree and home, along with delightful Department 56 Villages to make your holidays more magical.
JZ designed the Virtual Village web site in collaboration with H. Hargrove, one of America's most popular living artists. Hargrove painted the four seasons of the village scenes from JZ's vision. The JZ Rose web site (formerly the Outback Boutique) won third place in the 2005 Horizon Interactive Awards for design. IBM received second place in the same category. This is a prestigious international competition recognizing outstanding achievement among interactive media producers and recognizing the best web sites, videos, online advertising, print media, and mobile applications of thousands of entries received from all over the world.
The entire staff of JZ Rose is dedicated to offering you, our customers, top quality customer service and a pleasant online shopping experience. Please email us with any questions, concerns or comments at
[email protected]
YELM, WASHINGTON
207 1ST Street South
Yelm, WA 98597
Telephone: 360-458-4618 or
Toll Free: 877-458-4618
Fax: 360-458-1182

Yelm Store Hours:
Thursday - Saturday
10:00 am - 5:00 pm

Closed Sunday - Wednesday